Dear Telugu People in UK,
Dear Chairman/President/Trustee/Committee
Seasonal Greetings from Andhra Pradesh Non-Resident Telugu (APNRT) Society, Andhra Pradesh.
APNRT Society is an initiative of the Andhra Pradesh State Government to unite the Telugu Diaspora Worldwide and provide them the right platform to engage with their motherland in ways and means which are symbiotic in nature.
For the first time in the history of the state, a full-fledged and dedicated NRT division exclusively to cater to the needs of the Non-Resident Telugus has been formed under the leadership of the Honourable Chief Minister of Andhra Pradesh Sri. Nara Chandrababu Naidu Gaaru and Honourable IT&NRI Minister Sri. Palle Raghunatha Reddy Gaaru.
APNRT Society has launched 'APNRT Services', a one stop conduit to accomplish the various needs of the Telugu communities living abroad. Pilgrimage services to prominent temples in the state, Assistance on Legal and Taxation issues, Investment opportunities in AP, OCI/PIO/Aadhar cards, Lost documents, are among the several services offered to the Non-Resident Telugus under one roof.
To assist and to coordinate APNRT affairs, a team of local coordinators have been appointed in all major cities worldwide. Your local coordinators contact information is available on our website www.apnrt.com
And in moving forward, APNRT welcomes Telugu associations worldwide to affiliate their organizations and cater to the needs of the NRTs across the globe. As your association is one of the reputed Telugu associations in the world rendering extensive services to the Telugu community. APNRT seeks the opportunity to associate with you in order to render seamless services to the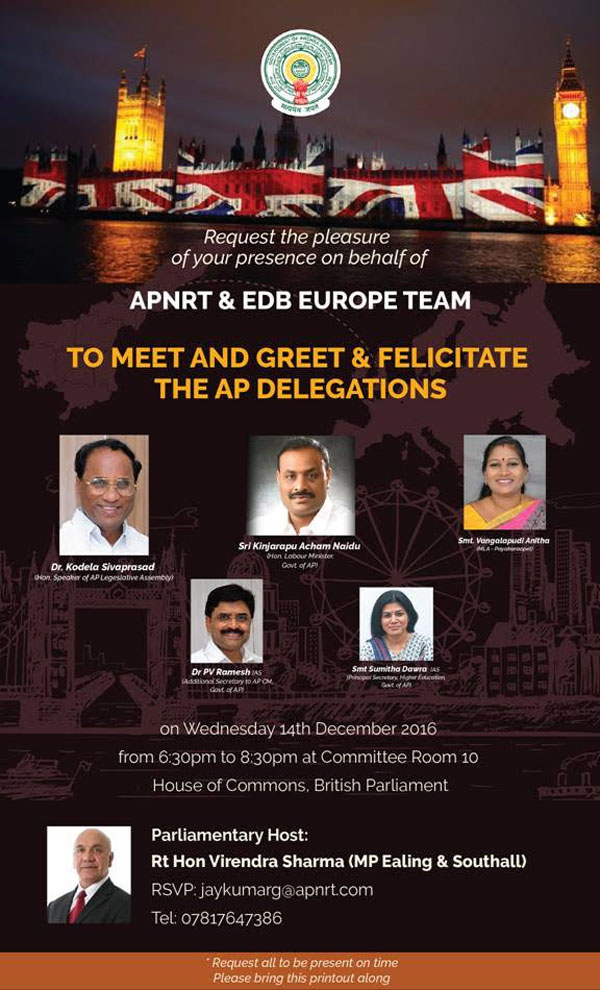 Telugu community.
In reciprocation to your association with us, the APNRT Society would offer enhanced services to your organisation and to members. Your association can also refer suitable candidates of your choice for appointment as APNRT Coordinators which could assist and set the direction for the APNRT in the future.  Through our web-link to your association , APNRT would recommend members as per the area to be part of your association. APNRT would also give you the opportunity to be part of the events/activities hosted by the APNRT.
APNRT would provide you regular updates on new government policies, services and other important developments in the state of Andhra Pradesh.
On 14th December 2016, our team will be hosting a "Meet & Greet" with delegation from Andhra Pradesh. We request your management and members presence. Please see the attached invite. R.S.V.P is appreciated.
We at APNRT would be happy to hear back from you and to have you associated with us.Best Regards
Jaykumar Guntupalli
Head of APNRT Affairs Europe